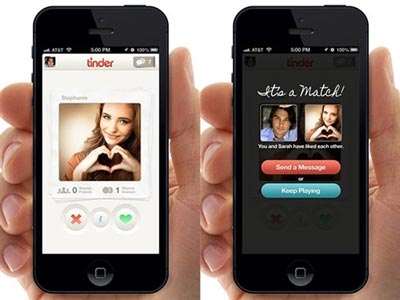 It's simple enough to find an affair in this day and age. The myriad dating websites and apps available today make it almost impossible not to find a date, hookup, girlfriend or affair. From Facebook and Twitter to sites actually made for dating like Freehookups and Affairs Club, there is always a way to find an affair. The dating world is a buzz currently about the dating app Tinder. Its wild popularity hinges on the simplicity of the app and the ease of use. It uses your Facebook profile to find people in your area you may know and want to hook up with. Tinder shows the user pictures of people who are in their same geographic area, with mutual friends and interests. Swipe left to pass and right if you're interested. Once two people have both swiped right on each other's pictures, they get the opportunity to connect. Tinder is taking the dating world by storm but there is one problem. Not everyone wants to date from his or her own geographic area. Especially if it is an affair they are looking for.
Many people search only outside of the area they live in to find an affair partner. Living in the same town for an entire lifetime, or even a few years, allows a person to develop friendships, relationships, jobs and leisure activities in the area. Having an affair means, many of the people in your life are apt to find out. The thought of peers, coworkers and fellow church members finding out about something as personal as an extramarital affair is just too much. Those types of people prefer to search out affairs outside of their living area. Another reason people do not want an affair entanglement in their own stomping ground is period issues. There is no rule in the book that says an affair must last any certain amount of time. It may last years, it may last months, or it may last days or even less, such as in a one-night-stand situation.
No Matter Where You Are Tinder Can Connect You With An Affair
No matter what the reason is, there is a way to get out of Tinder's geographical restrictions. The app uses the GPS on your device to know where to find women for you to peruse. Shutting off your phone's GPS only makes the app inoperable or at the very least, glitchy. One easy way to change this a bit is when you set up your Tinder account, set your search area for as far as possible. This enables you to get a look at women who are living farther away from you. Another way to get around this annoying property is to pay for the Tinder Plus. This monthly charge is a big help with a lot of the things people complain about the most. Other than the geographical restriction, users complain that when they accidentally swipe left instead of right, they cannot retrieve the person's photo. It may not seem like a big deal at the onset, but if you have checked out the site for a while and haven't found anyone who interests you, only to accidently left swipe the only one whose tripped your trigger, it can be devastating.
Once you have mastered the art of finding women outside your little corner of the world on Tinder, your next step is finding a woman who is interested in having an affair. There are very few criteria to input on the tinder interface. A bone of contention for some, others find its simplicity refreshing. As such, there is no way to make it known you are
Tinder Does Have Its Limitations When It Comes To Affairs
searching for a married woman or looking for a woman interested in an affair. Currently, users can input only if they are searching for a female or male. Finding an affair while you're out of town on business can be tricky. Tinder isn't a magic box with women jumping out of it into your lap. The simple act of logging on does not supply you with an endless stream of hotties at your beck and call. While its true Tinder has no lengthy profile pages to fill out, you still have to put some time in. Make sure your pictures are great and do some serious swiping of your own to get the ball rolling. Begin a few weeks, if possible before your business trip. You never know how long it will take you to get in the system and circulating well.
Make sure to use the Tinder app if your ever in the area you plan to have an affair in, whether your there for an affair or not. If your just passing through or there with your wife or on another business-oriented trip, log in and let the system log you in the location. Check out the users you see in the area and do some swiping. Before long you'll have more hotties than you can handle.
Tags: affair advice, discreet affair, find an affair, Find An Affair With Tinder, How to find an affair, Tinder, Tinder For Affairs, Twitter, Using Tinder