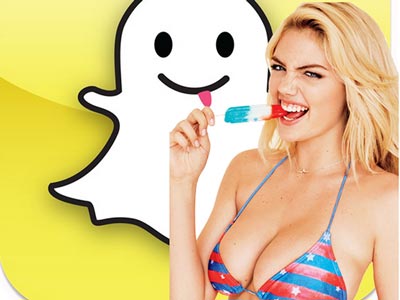 Most people want to keep their affair a secret. There are the very few folks who have those mystical open relationships, and in those cases, keeping an affair a secret is not needed. For the rest of us saps, however, secrecy is most often in order. Affair dating in the new millennium does not lend itself to secrecy. So much is on the internet and in device apps that prying eyes need not see. While many offer a variety of stealth tools, it is the user's responsibility to use them to their highest capability. Snapchat is not different.
Snapchat allows its users to take a photo and send to a recipient to their friends list, but it only lasts for a few seconds. This seems like a great way to chat with a mistress and it is. There is also the option of writing on the photos, adding stickers, effects and a text message. You chose how long the recipient has to look at the photo and once its gone, its gone. Something like a secret message for 007, it self-destructs in seconds.
Snap Chat Makes Sexting Your Mistress Easy
Using Snap Chat is easy. You must have a Smartphone. Download the Snapchat app from Google Play or Itunes. It is a free app and takes only seconds to download onto your device. If you don't already have an account on a previous device you will need to set one up. There is no charge to open an account and it is simple. You will be asked for your name, email, birthday and a user name and password. You will need friends on Snap Chat, including your mistress. Snap Chat will scan your devices contacts to find which ones are on Snap Chat. You can also search for people if you know their usernames.
Snapchat is the perfect app for sexting your mistress if you're worried about others seeing it. If she is married as well, it works doubly well. Neither of you has to worry about wives, husbands, children or nosy-bodies happening across your sexy messages to your mistress. It is also the best app in the world for those racy photos people in affairs want to send each other. Sexy photos of your mistress topless or even bottomless or full nude will never meet anyone's eyes but yours, if only for a few seconds. It is a bummer you cant keep some of the things you receive in Snapchat but considering the leagues of celebrities and normal people who have gotten into hot water over racy cell phone pics. It's a small price to pay to avoid drama, fights and maybe even divorce.
How Safe Is Snapchat?
There are some reservations to keep in mind, as with any app or website. But how safe is it? When you put information online, into cyberspace, there are always dangers, especially if you are concerned about someone finding out. While Snapchat's most prominent feature is the disappearing pics and video, its own website states that it doesn't always happen as planned. In some cases the message may stick around longer than it was meant to. Granted, this doesn't happen very often, but it only has to happen once in front of your wife and it will be enough. Any time you put photos and personal information online, it can be compromised. Snapchat announced a new feature that lets you replay the last viewed Snapchat pic, called a Snap, from the previous 24 hours. This can only be accomplished once in a 24-hour period. This feature has to be enabled before use by opening the Additional Services menu. Access it by tapping the Cube button, and then tapping the Gear icon, and finally tapping the Manage button under the Additional Services section. Next, tap the checkbox next to "Replay" to enable this feature. This task only permits you to view replays. All other users already have permission to view replays of your Snaps, which cannot be changed irrespective of whether or not the button is checked.
Don't forget about screenshots. The person receiving your Snapchat pic could potentially take a screenshot of it and have it forever, long after Snap Chat deletes it. There has to be a level of trust with your mistress, in order to feel comfortable she will not pull this despicable stunt. Sadly though, you never know.
Where theres a will there is a way. If you're in need of a way to communicate stealthily with your mistress, you just found it. The disappearing Snaps are a perfect way to send the messages that you need to in a manner that will probably not be discovered. The key is to stay ever vigilant in your quest for secrecy and never let your guard down.
Tags: discreet affair, having an affair, mistress, Screenshot, Sexting, Snapchat, Snapchat sluts, snaps