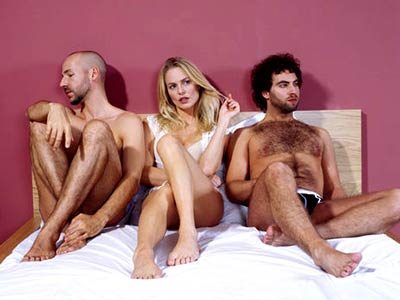 The thing that makes an affair so exciting is that it is something that is out of the ordinary. Sex in a committed relationship can become stale. No one likes to have chocolate everyday of their life, sometimes you just want to have vanilla. That is the beauty of having a sexual affair, it is something that is naughty, against the rules, and well, it is a new experience from the everyday. Another thing that is a new experience from the everyday is a threesome. If you have always wanted to have one, but you knew that your committed partner would never go for it, you may benefit from asking your discreet affair what she thinks of the idea.
The problem is that you don't want to run the risk of offending her by suggesting that she do something that she wouldn't be comfortable with. Before you make the mistake of asking someone and putting them in a bad position, there are some cues that can tell you whether she would be up for it or not. If she is showing you any of these signs it is likely that she is open to having more than just the two of your participating in your sexual encounter.
You are able to talk about sex
If you have an affair partner who is open to talking about sexual activity you may have an opening. Often times people are very closed and secretive about their likes and dislikes. If someone is open to being vulnerable enough to talk about what they like in bed, it is okay for you to throw out the question of whether it is something that they may be interested in. If you don't have very good communication about sex, or don't discuss it, a threesome may be something that you may not want to bring up either.
How secure is she?
If you have an affair mate who is very confident in herself she is a good candidate. Being able to feel good about yourself and having confidence in who you are, are good signs that you would be open to new experiences. Often times women wouldn't be open to having other women involved in sex because they worry that you would compare them. If your affair is completely satisfied with who she is, how she looks, and her own body image, then you may want to suggest that you try something new like a threesome. The more secure she is the more likely you are good to go.



Talk about your fantasies
If you want to test the waters before you come right out and ask her you may want to start by just bringing up innuendos or sexual scenarios to see how she feels or reacts to your suggestions. If you talk about a threesome and how you have always been interested and she doesn't seem turned off by the idea, you may want to go ahead and ask her. If you aren't comfortable telling her that you are interested before you know she would be, then use other people to make up stories about it to get a sense of her reaction to sexual prowess.
It is all about timing
If you are in the middle of talking about something that is important to her and you blurt out that you want to have a threesome, it is probably not going to be taken well. If you want to have a threesome with a woman, whether she is your committed partner or your affair, there is a right time to bring it up and ask, and then there is a wrong time. Knowing the difference is important. Make sure to catch her body language and the cues that she is giving you about what her comfort level is in what you are getting at.
If she is not okay with it then you have to just let it go. You can't coerce anyone into doing something they aren't into. If you don't have three people who are excited about it, and on board, it is not going to be the great experience that you hope for. If this affair is not the one, perhaps the next one will be.
Tags: affair advice, affair online, affair tips, discreet affair, find an affair, threesome