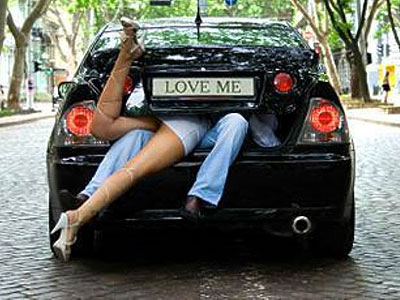 Please don't have sex with your mistress in your marital home and bed – not unless you're doing it so you get caught so you don't have to remain in your dead lifeless marriage.

To pull this thing off, you'll have to plan ahead so you're sexual liaisons come off without a hitch. Its all about the location – pick a bad place and you'll risk getting caught, or scare your mistress off. Pick a good place and you'll have a great experience.


I've come up with the top 5 best spots to bed your mistress
1. Hotel Room Rendezvous
Despite costing you money and increasing your chances of getting caught if you stupidly use your credit card, this is a terrific option to get it on with the sexy 'other woman'. You wont be interrupted and you'll have a comfortable place to rest and shower after the deed is done. Plus if its in the early stages of the affair, you might be still trying to impress her and a nice hotel room is a great place to do this.
2. Backseat bandit
If cost is an issue, limit the hotel room to once a month and hit the backseat of your car in a deserted carpark or 'lovers' lookout. Not only is it super sexy, but you'll be doing something you wouldn't normally do. Sex in the car is not just for teenagers.





3. Take the party to her house.
Going to her house is a totally different ball game – you might not be caught out by your wife, but their is a huge chance that her brute of a husband may come home and pounds you good! If you're willing to take that risk, then it could add an element of danger some people find a turn on.
4. Take it to the parental – When they grey army go away, naughty boys come out to play!
The offer to water the plants has never looked so inviting when your retired parents head out of town on another little trip, and require assistance with some household duties.
This low risk location is a great spot to get hot despite the lingering smell of mothballs and suspicious elderly neighbors. WARNING – do not do the deed on your parents bed and spunk all over their pillows – Respect!
5. Office shenanigans
Having the keys to your place of business can be a cheaters paradise and become an access all areas pass to forbidden pussy in private. However if your not the boss, make sure there are no surveillance cameras or late night cleaners that can catch you out!
Tags: affair online, affair partner, affair tips, have an affair, hook up, how to cheat, meeting an affair partner, mistress, places to have sex