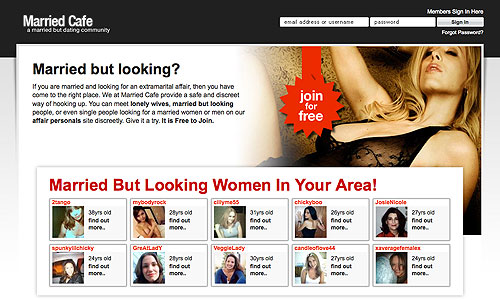 Married Cafe, More like seedy cafe! This site has a poorly constructed membership base that includes a slew of inactive profiles, fake members trying to bend you over and hump you dry, and absolute dog ugly women which I found extremely hard to believe had husbands at home, but were confident enough to go looking to find an alternative hook up and start an affair with other men. Seriously its pretty grim!
Unfortunately I wasn't aware of the epic failure that this site was and joined up, loading my profile with witty, interesting information and letting it be known I wanted to start a discreet affair, and began searching through what I thought was the cream of Married Cafes crop. I eventually sent out a decent number of contact emails which was a complete waste of time. Time that I will never get back!
When reality hit that the only women who actually used this site where the sort of women who I had immediately clicked passed and wrote off as 'NO FUCKING WAY'S' I realized it was a lost cause.
Married Cafe is NOT going to get you hooked up and it wont get you an affair. it did not produce one decent lead for me despite the success I have had using the same tactics from the 10 step guide on finding and maintaining an affair online.
The success that this bogus site claims is due to the hundreds of washed out, over the hill blimps and co that will bang anyone who falls into any category including the perverts and nobs that no one wants to touch!
Married cafe is a cafe full of empty chairs and false hopes!