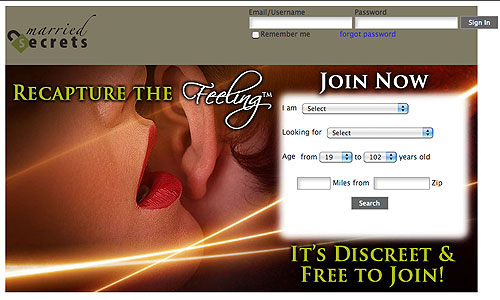 With offers to recapture the feeling – the one I'm obviously missing, I blindly joined up to this free discreet married dating site in a hopes of meeting a decent women to start an affair with, Unfortunately, its all pretty much bullshit! Married Secrets should be kept a secret – preferably in some dusty draw where it will never be found again!
The testimonials from apparent female members who had some luck getting someone into the sack, and the ones from 'unknown genders' that were meant to entice me into joining didn't! As soon as I saw unknown gender, I should have run for the hills. But no, I used the free sign up to access nothing, so I stupidly paid the monthly fee to get more of nothing. Sure, they have some similar features to other sites that get you hooked up, but with basically no real or worthwhile members there's no point is there?
I didn't know this yet though, so I sat around for hours checking out what was on offer, filling out my profile, selecting photos to upload and sending out contact emails. And that's basically the highlight of the whole experience.
There is next to no hot chicks looking to be banged let alone find an affair at marriedsecrets.com, and if there is, maybe 1000 out of 1 million + reported members are actually legitimately decent and they have so many guys to choose from you may as well not even bother. The rest of the supposed decent women aren't even real. They are fake profiles set up by people trying to get you to buy memberships to other sites, or escorts and skanks coercing you into watching them or others play with themselves on webcam or meet up for a fuck in a hotel for money. The ghastly pigs left over are full of stretch marks and hail damage.
Married Secrets is definitely not the worst site I've seen, and I did actually get a few responses from women that where real, but nothing eventuated out of it. This site probably wont benefit you or get you hooked up and into a discreet affair.