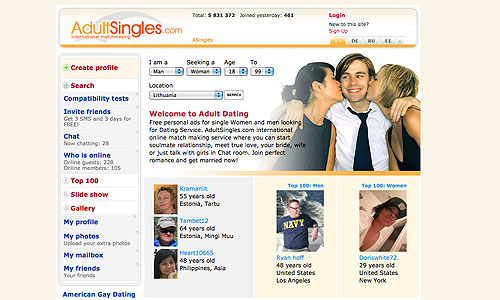 Adult singles is a site that is trying to convince you and anyone unlucky enough to come across it that if you sign up, you'll get hooked up! This is NOT going to happen. If you did, it would be like finding a needle in a haystack!
If you have had the unfortunate experience of signing up without having read this review and are here trying to work out why its not working for you and to hunt out any tips you could utilize to get something in motion, and start the affair you're looking for, take it from me cut your losses and move the fuck on.
I've tried out most, if not all the adult dating sites geared at finding a discreet affair online, and this would have to be in the top 2 of the worst choice category. There is only 1 other site that I know of that is actually worse than this one, so believe me when I say do not sign up to this site, you will not find an affair!
Most of the profiles you see on Adult Singles belong to idiots like me who got tricked into joining, fakes set up by prostitutes that will suck your wang for a tenner, admin for webcam shows and other shitty sites, and weird perverts that get off by pretending they are women. The rest are a mess of societies rejects!
Exposing sites as jacked up as this one is a favor to mankind!!!