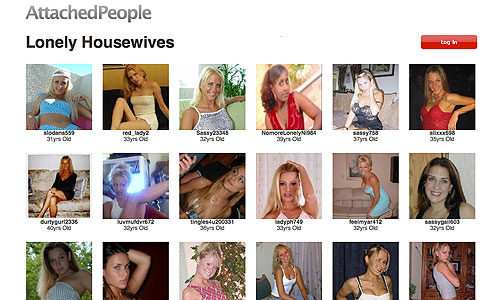 Looking for an affair online can be a daunting process, and to a newbie it is a very foreign experience. Knowing where to start and what questions you should be asking yourself isn't a given. You'll want to know what the legit sites are and what ones to steer clear of. I've joined most of the sites, both good and bad, and can safely say that attachedpeople.com is one you should steer clear of.
On paper, attachedpeople.com ticks all the boxes. It has an easy to use format, and similar design to the top sites that focus on finding you an affair. It has pictures of fairly decent members and claims to have the thumbs up from Today, Glamour and Playboy Radio among various others, so why wouldn't you join right?
Before signing up for $39.08 per month which should have been a warning sign right there (because most of the sites are around $29.95 per month) I should have paid better attention to the fine print on the home page under the sample profile pics that clearly states that 'ALL MODELS' were at least 18 years old. These models that we are all assuming are paying members looking for a discreet affair have enticed many men to join up in a hope of getting someone just like that. So basically what I am saying is that these pictures of models that they are flogging are more likely strippers, escorts, pornstars or women willing to let this company use their pics to bolster their image for a quick $50 in their pockets or else in exchange for the use of the site to benefit their seedy businesses.
With my mind in the gutter creating scenarios about getting it on with some sexy little minx I assumed I was going to meet, I join, do the obligatory setting up of my profile and uploaded my best pics, hoping to get some action. I start browsing through the profiles and begin to narrow down my short list. After sending out the mandatory contact emails, I sit back and wait, and I wait!
Eventually I get two replies and as I fist punch the air and allow myself to fantasies about which one of these women I'm going to get the pleasure of bedding, I'm still blissfully unaware that both women are in fact going to turn out to be escorts. The 'I want to suck your hard cock' reply straight up should have been warning enough.
After ditching off the two skanks, I decided to give it another go, because fake profiles even appear on the best and most successful sites. I focused on standard looking girls this time around, but the deeper I got and the more emails I sent with no replies promoted me to conduct a bit of an experiment. I started searching out the overweight, the ugly and the downright undesirables, and contacted about 20 of them with generic impersonal contact emails, and wouldn't you know it, the replies came rolling in.
attachedpeople.com mainly deals in low end hookups and affairs. If you want a heifer that's husband would gladly let you fuck because he just cant face it anymore, you're in the right place.